The Mark 3HD range has relentless precision in a rugged package. Enhance your performance with its elite optical system, P5 dial with 1/10th Mil adjustments, removable throw lever, and 3:1 zoom ratio. This is a match-grade repeatable MIL-based scope perfect for range or competition. All Mark 3HD models are waterproof, fog-proof and shockproof. Our Mark 3HD 8-24x50mm gives you the most versatile magnification range of the entire series, and the flexibility to operate at peak performance wherever your rifle takes you- from close encounters to long-range shots.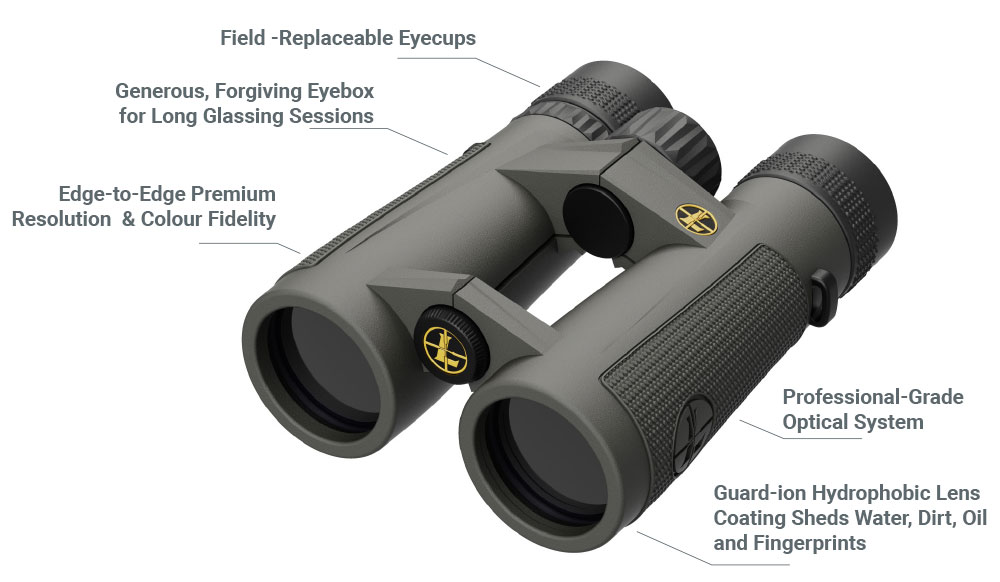 Easy grip rubber armour. Precision focus dials. Bright, edge-to-edge sharpness. Glare elimination. Crystal clear performance in those key moments at dawn and dusk. Expect this and more from the Leupold® BX-4 Pro Guide binoculars.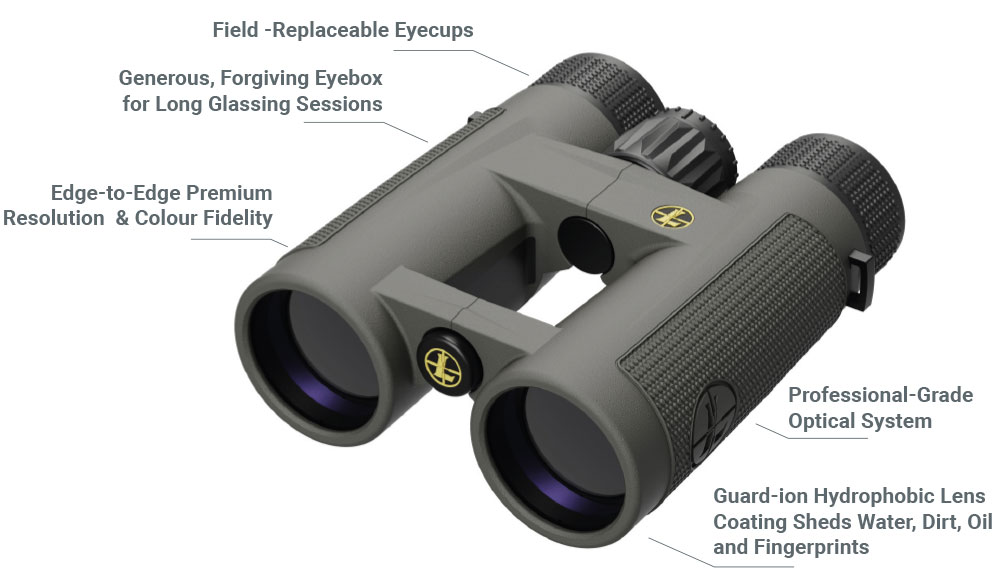 A powerful and compact option that lets you see more in less light, the BX-2 Alpine range features our Twilight Max light management system and Advanced Optical System. Focus in using their large, tactile central focus dials and enjoy the high-definition clarity of this tried and true tool.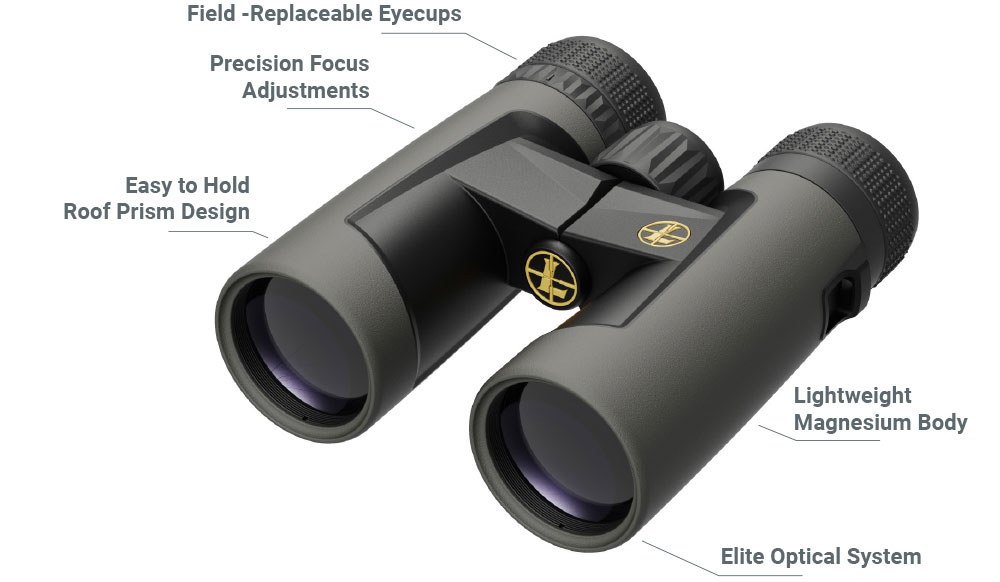 Balancing performance and affordability, this range is ideal for the discerning recreational sportsman or sportswoman. These binoculars provide edge-to-edge clarity without weighing you down. Impact-resistant polycarbonate housing and phase coated BAK4 prisms keep them safe from wear and tear in your rucksack, pocket, or hand, even in the wettest weather conditions.
The BX-T HD MIL-L features our unique MIL-L reticle, a large, tactile focus dial, industry leading glare reduction, and a Berry Compliant MOLLE case. This range is purpose-built to give you the tactical advantage in a wide range of field applications. It gives you measuring, range-finding, and spotting capabilities in a lightweight, ergonomic, open bridge design that's as comfortable to use. A trusted range, BX-T HD MIL-Ls are effective in even the most challenging lighting conditions.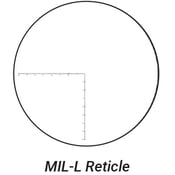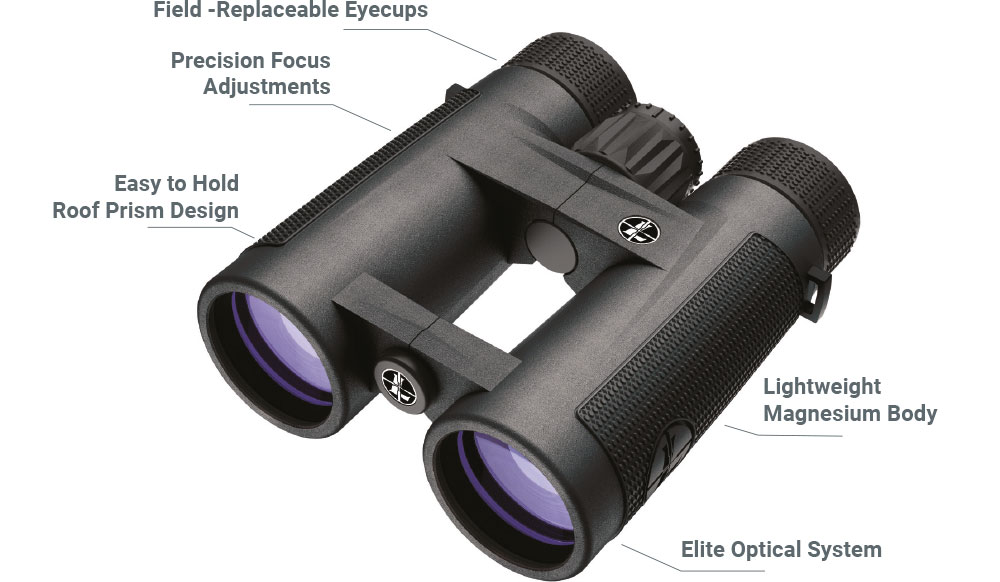 Long range shooting tests your limits with every shot. Top competitors are now shooting at staggering distances, which is where the RX-2800 TBR/W Alpha IQ digital rangefinder comes into play. With ½ yard accuracy out to 2,800 yards, 7x magnification, and an easy-to-read OLED display, this lightning quick rangefinder is guaranteed to stretch your skills. The new Alpha IQ digital rangefinder makes ranging smaller targets quicker than ever before, while our True Ballistic Range (TBR) technology takes into account the angle of your shot and your rifle's ballistics for dead-on aim.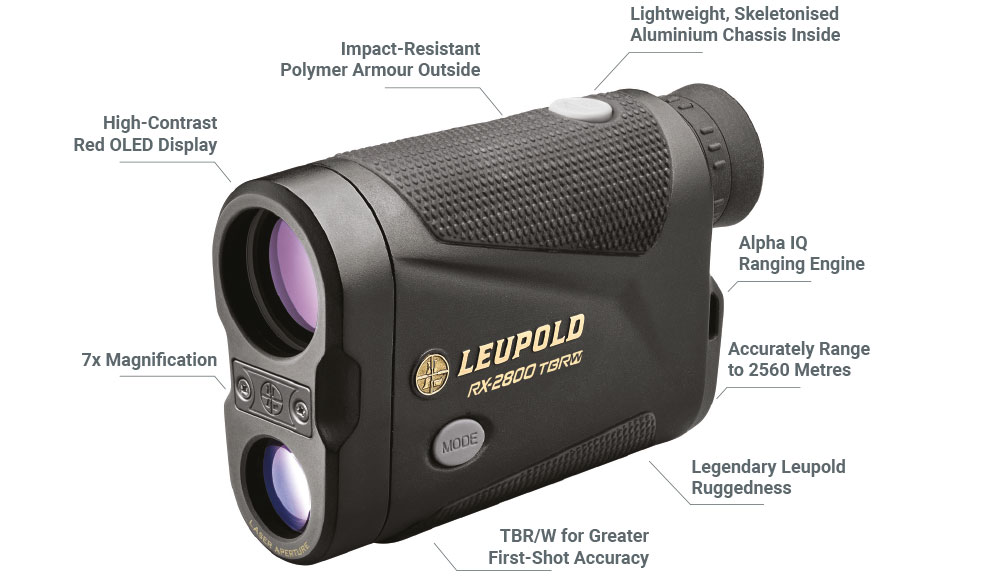 When it comes to versatile, accurate range finders, the RX-1600i TBR/W is the Jack of All Trades. Whether you're dinging steel at incredible distances, tracking down that trophy of a lifetime, or sitting in a stand with a bow, the RX-1600i TBR/W has you covered. It features our True Ballistic Range (TBR) technology, which takes into account your rifle's ballistics and the angle of your shot every time. An easy-to-read OLED display and rubber armour coated aluminium body make it the perfect range finder for any adventure.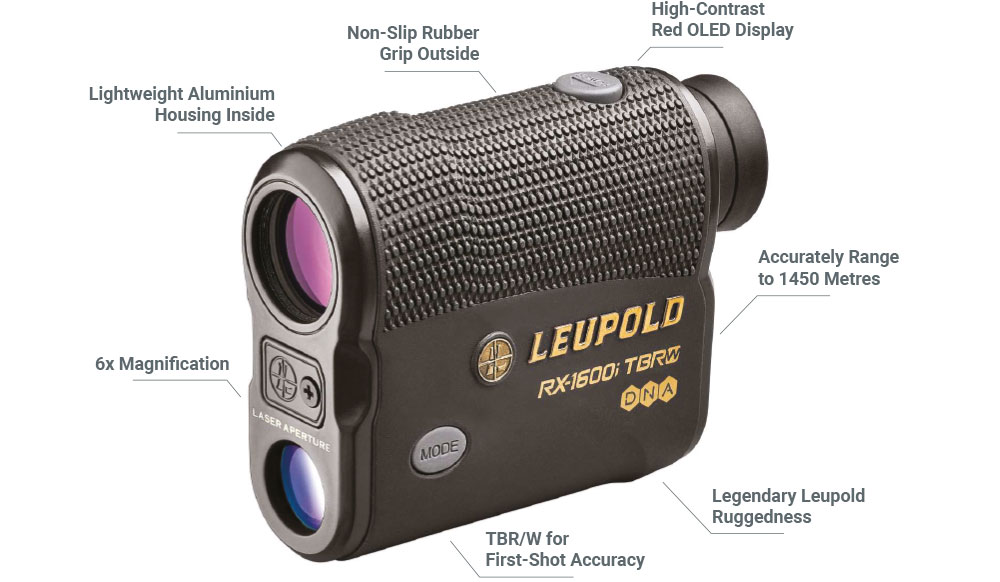 The RX-1400i TBR/W enters the market as the most versatile, feature-rich rangefinder in its class. Equipped with our proprietary ranging engine for lightning-fast accuracy and an exceptionally bright red display, this rangefinder will take your hunting and shooting to the next level. All of this functionality comes wrapped up in an incredibly rugged, lightweight polymer housing, with ballistically calculated ranges that can keep you on target even for the most extreme uphill and downhill shots. Go farther faster with the RX-1400i TBR/W.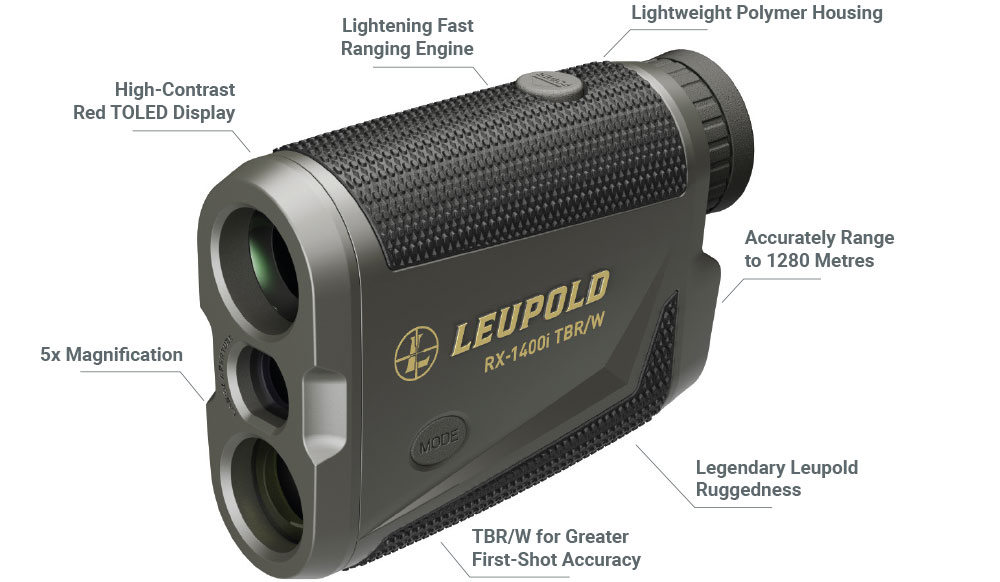 RINGS
U.S. carbon steel, precision engineered to match all STD bases. Five heights available. Anti-slip grooves eliminate scope movement in the rings.
BASES
Available in one-piece and two-piece bases. Two-piece steel bases fit right-hand and left-hand actions (available in front and rear reversible). Maximum accessibility to breech area. Front base locks a dovetail ring in place.
Rear base with windage ring allows for gross left/right boresighting correction using the mounts. Rear ring secured by Nylok™ windage adjustment screws for perfect boresight windage. Long-Range STD mounts add 1/4-degree (15-MOA) of built in elevation.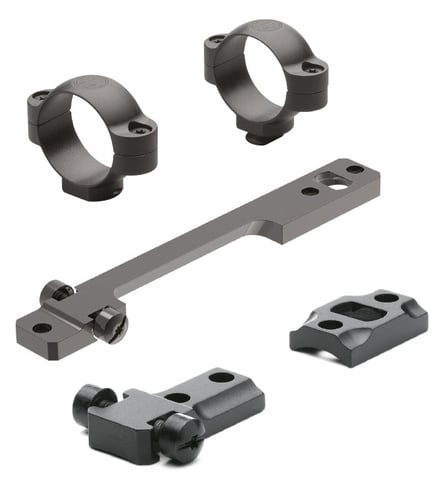 RINGS
Leupold® Dual Dovetail™ rings have a twist-and-lock action that ensures a strong connection with the one or two-piece base. Along with their forged steel construction, this unique locking action makes them a key part of one of our strongest mount systems.
BASES
The Leupold® trademarked Dual-Dovetail™ (DD) system is designed to hold up to a lifetime of abuse, trusted to never let you down. Our DD bases provide a classic low-profile mount for scopes on a variety of popular actions, accept all Leupold rotary dovetail rings, and connect at both the front and rear to provide a rock-solid mounting platform.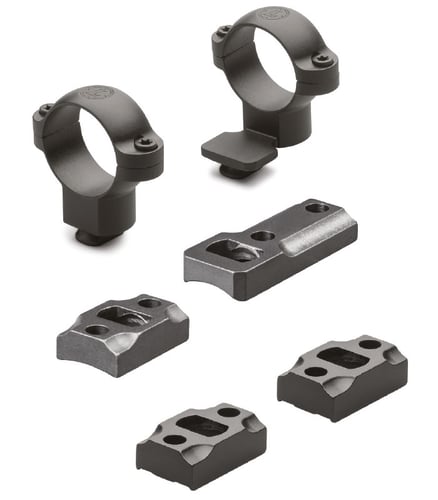 Made with machined steel construction and supremely-close machining tolerances, our Quick Release rings give you all the stability of the Dual Dovetail and STD systems with the added option to remove the scope from your rifle and reattach it without the loss of zero (within 1/2 MOA). They are designed as a perfect fit to the QR bases.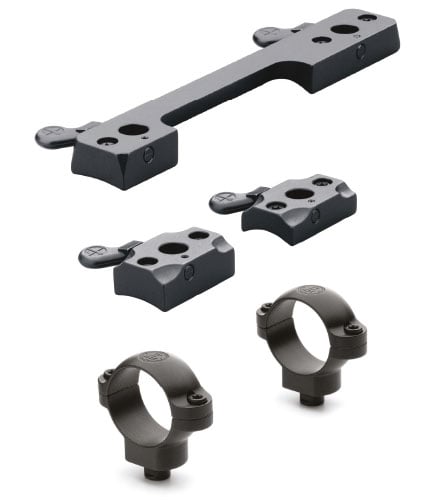 RINGS
Our Quick Release Weaver (QRW) rings are an essential piece of our QRW steel detachable accuracy mounts. These mounts are based on the familiar cross-slot design. Their quick-release feature makes them ideal for shooting recreationalists and sportsmen/sportswomen on the go.
BASES
Leupold® Quick Release Weaver™ (QRW) Bases are made from solid steel and designed to take any Weaver scope ring, as well as being compatible with a wide range of rifles. They bring Leupold® accuracy to the cross-slot format, helping you achieve detachable accuracy wherever you are.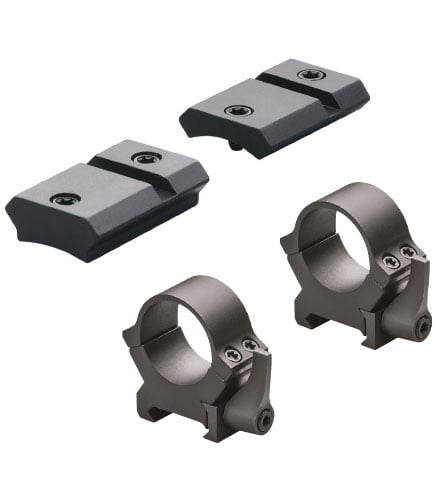 The Leupold® PRW style rings are designed to fit Picatinny or Weaver style rails with 1-piece and 2-piece bases available for many popular rifles. They're part of the Leupold® Cross-Slot mounting systems with a reputation for being every bit as rugged and dependable as the optics they secure.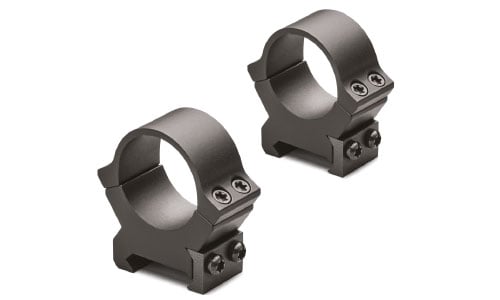 The LRW series offers more options for shooters seeking Cross-Slot mounting system technology for its durability, reliability, and sleek/low-profile appearance. These rings mount quickly and easily while embodying a more traditional look than most other ring styles.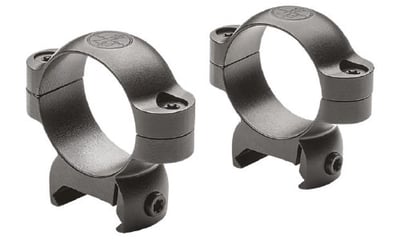 RINGS
The Leupold® BackCountry Cross-Slot series is constructed with incredibly lightweight 7075-T6 aluminium and a milled-in recoil lug, making it one of our lightest and most rugged hunting-style mount series yet. These low-profile rings will fit both Picatinny and Weaver-style bases.
BASES
The Backcountry Cross-Slot mounts feature a 1-piece Picatinny rail base, and accept both Picatinny and Weaver-style rings. They are designed to perfectly fit a range of rifle profiles and trusted by many of today's top shooters, who have endorsed this series for embodying 'well made, good finish, Leupold quality.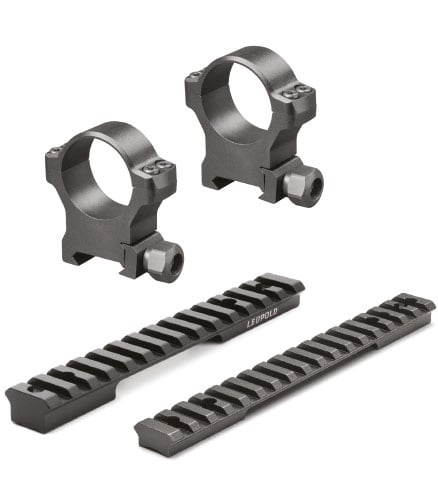 Leupold® ringmounts are a high-quality alternative to firearm manufacturer ringmounts, and can also be used as a trusted no-tap mounting method for most .22 rimfire rifles with an 11mm, 13mm, or 3/8'' dovetail rail. They offer superior integrity and tighter tolerances thanks to their solid steel construction.

The Mark 4 scope rings are machined from solid steel, and an excellent fit on any Weaver or Picatinny rail system. Using the proven Cross-Slot design, they lock into place and provide the superior integrity and durability expected of all products bearing a Leupold® logo.
35MM RINGS
Leupold® 35mm rings are designed to fit perfectly into our popular Mark 4 Cross-Slot scope systems. They offer a higher profile, with a raised height style and ring height of 2.69cm (1.06in). Aluminium construction makes these rings affordable yet durable and lightweight options with impressive precision tolerances.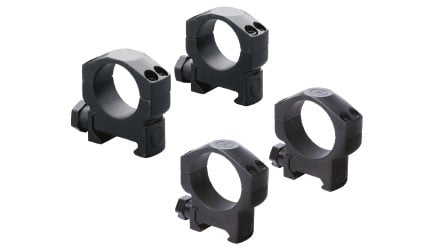 RINGS
Rifleman scope rings are made with our proven cross-bolt design and designed to perfectly fit both Rifleman scope bases and Weaver-style scope bases of all varieties. These rings are an economical alternative to steel options, still providing the strength and accuracy you expect from Leupold®.
BASES
Constructed of anodised aluminium with steel screws, Rifleman® bases can be easily installed on a wide variety of rifles and shotguns. They offer lasting rigidity and reliable performance in tough environments. Extremely affordable and well-made, their aircraft-grade aluminium was machined specifically to provide these bases with exceptional strength.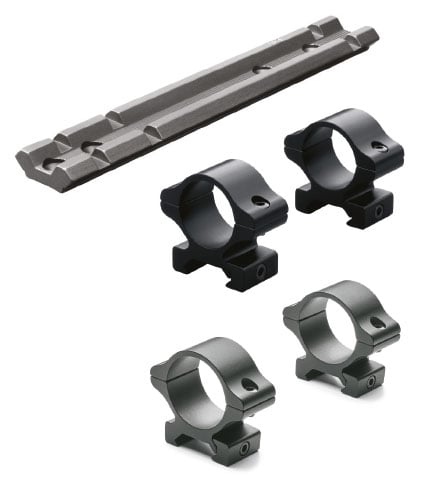 The Leupold Integral Mounting Systems (MS) family quickly and easily eliminates the two most common issues faces when mounting standard riflesopes to AR-style rifles; scope height and eye relief. All Leupold IMS products are tested to endure the rigours of the field, and are covered by the Leupold 30 year guarantee.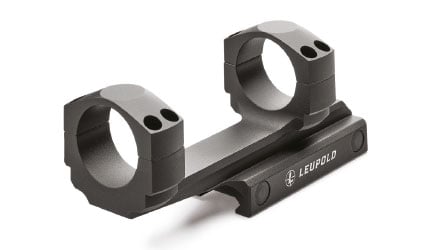 Leupold offers an unrivaled selection of rings, mounts and bases. Yet for every rifle and scope combination , there is one ideal mounting solution.
The Leupold Mount Finder makes finding yours easy in 3 easy steps.
Select Your Rifle
Select Your Riflescope
Get The One Mount You Need
Head Office Address
Viking Arms Ltd, Summerbridge, Harrogate, North Yorkshire, HG3 4BW