ULTIMATE RIMFIRE GUIDE
There's little doubt that rimfire ammunition in general is the most prolific form of munition on the planet. However, today's, handful of calibres are the survivors of what we shall see was a massive development into the advancement of ammunition technology in the 19th and early 20th centuries. Frenchman, Louis, Nicolas Flobert is accredited in making the first, truly, self-contained cartridge in 1845. It consisted of a simple metal (usually copper) drawn case with a hollow (balloon) rim that contained a priming material, with in some cases a small charge of gunpowder included. It initially fired a small lead ball of 4 or 6mm calibre and was originally used in what where known as saloon or parlour pistols for indoor, recreational shooting.

The name rimfire comes from the fact, the firing pin is offset so that it strikes the rim against the side of the supporting, breech face, to initiate the primer and fire the cartridge. Compared to a centrefire system, it's simpler, but as we shall see, this very basic concept, is not without issues.
Before this, guns were loaded with loose powder and ball or bullet, or cartridges made of paper that contained the charge and projectile but no means of integral ignition. Instead, an external flintlock or percussion cap was used, slight modifications on this theme were the capping breech-loaders like the Sharps, here the cartridge went in and the action was shut then a cap fitted to the nipple. The Smith Carbine employed a reusable, rubber-like case to hold the load with a hole in the back that allowed the flash to reach the powder. Marginally more practical, but!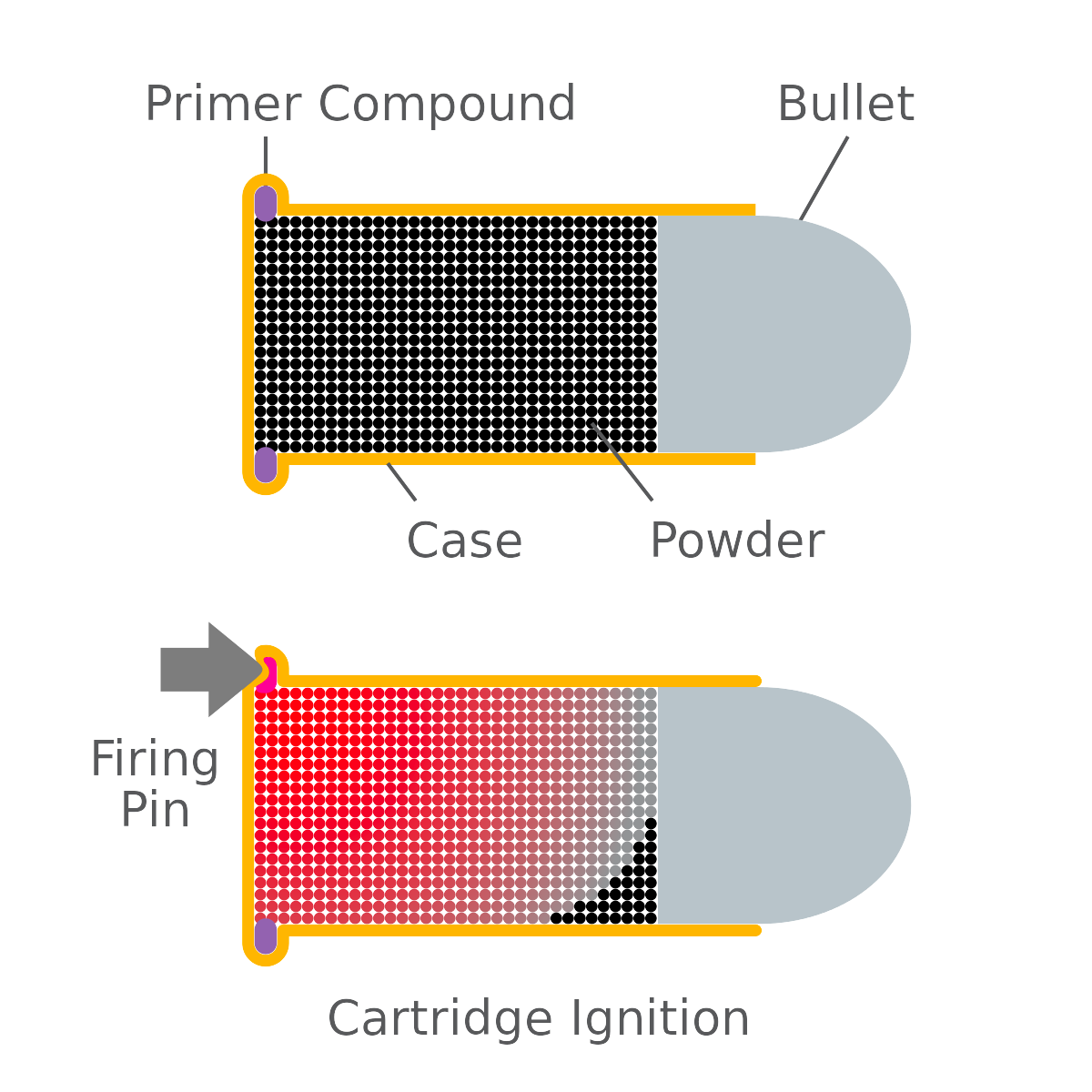 Why Rimfire
Design-wise a rimfire is much easier and cheaper to produce and suits the lower powers/pressures generated by current calibres. The one-piece, balloon head case has the priming compound spun into the rim section. Whereas a centrefire requires the base of the case formed to accept the primer and also a flash hole to connect it to the powder charge.
Priming too, is more complex; modern Boxer-types require a cup to hold the compound and a separate anvil to allow it to detonate under pressure from the firing pin, all enclosed in a pocket. Worse with Berdan types, as the anvil is integral to the primer pocket and two flash holes are required to ignite the charge. However, both types of centrefire case are strong and built to withstand the pressures of modern calibres and can also be reloaded (the rimfire cannot) despite what some idiots might say. This was fine with earlier, reasonably low pressure, blackpowder loads even in its larger options, but cannot compare now. Hence, why today these types are limited to smaller calibres, even the faster, higher pressure numbers.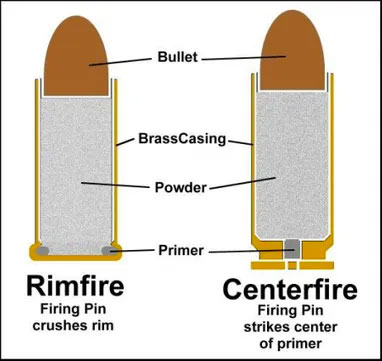 Survivors
The purpose of this guide is to inform you the reader about 'current' rimfire ammunition and its uses for today's shooter. Although interesting, an historical account of individual calibres and their development (unless relevant) is not the purpose of this piece. Below, a list of existing/current calibres and brief explanations.
TOP TIP: IF FOR ANY REASON YOU HAVE A MISFIRE, DO NOT RELOAD AND CARRY ON, INSTEAD CHECK THE BORE TO SEE IF ITS CLEAR. AS EVEN WITHOUT POWDER THE PRIMING COMPOUND ALONE, CAN PUSH THE BULLET INTO THE BARREL AND CAUSE SERIES PROBLEMS.
22 Short
Developed in 1857 for Smith & Wesson's first revolver it was originally loaded with a 30-grain, lead bullet over a modest, 4-grain blackpowder charge. The name 'short' was not coined until 1871, so as not to confuse it with the emergent, 22 Long of the period. Used for self-defence, short range hunting, gallery, plinking and in later decades Match pistol shooting, it's still produced today, but is losing popularity in the UK to the truly prolific 22 Long Rifle (22LR). It is, however, a sweet little round and for hunters offers an effective yet lower powered option over the 22LR. Sellier & Bellot shows a 28-grain load giving 932 fps/55 ft/lbs. It is still used as a special blank for nail guns, as are some other rimfires. But looking at ammunition manufactures websites indicates the Short is in decline.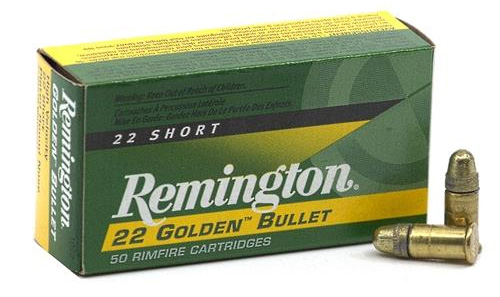 22 Long Rifle (22 LR)
Designed in 1884, the 22LR is the true, 22 rimfire success story, as it's still with us today with no sign of going away. Match, target, plinking, hunting, pest control, self-defence, dedicated semi-auto ammo and longer range use, it offers a lot of bullet options and loadings. Sub-sonic, standard, high and ultra-high velocity, hollow-point, round nose, segmented and even non-lead bullets are available too, some being copper-coated (washed) to reduce fouling. At one time Eley, even loaded tracer rounds for it, which were a lot of fun!
Plus, you can even get shot shells (snake loads) filled with tiny lead shot. Bullet weights vary from 36 up to 45-grains and Aguilla offer their Sniper Subsonic (SSS), 60-grain load, which is really pushing the envelope. Due to the greater size of the bullet, it uses what looks like a 22 Short case to maintain the 22LR cartridge overall length (COL). It's plain to see why the 22 LR is still the most popular rimfire and making the older numbers near obsolete!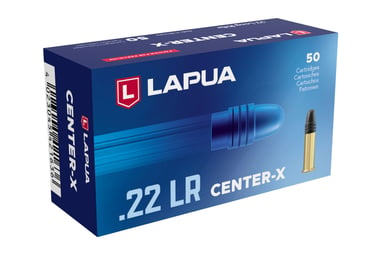 Here are some average, factory figures: sub-sonic 40-grain 1065 fps/102 ft/lbs., standard velocity 40-grain 1135 fps/116 ft/lbs., hi-velocity 40-grain 1255 fps/142 ft/lbs., ultra hi-velocity 32-grain CCI Stinger 1640 fps/196 ft/lbs., match 1085 fps, ultra-heavy 60-grain Aguilla SSS 950 fps/122 ft/lbs. CCI's shot shell/snake load carries 30-grains of No 12 shot at 1000 fps in a frangible, plastic capsule payload. No doubt, the generic 22LR has you covered and there seems to be new developments on the horizon.
17 HMR
Hornady's 17HMR, literally came out of the left field in 2002, as it offered a totally new concept for the rimfire varmint shooter. Using a 22WMR case, necked down, the initial loading gave a 17-grain, jacketed, ballistic tipped .17" calibre, V-MAX bullet, doing a quoted 2550 fps/250 ft/lbs. of energy. It shot near enough flat out to 100 yards where it could hold 0.5" groups, and dropped around 9/11" at 200 at 1378 fps/72 ft/lbs. It was devastating on rabbits, hares, and corvids out to 200 yards and at closer ranges with good bullet placement worked on foxes too. The downside, it was badly wind-affected, which has to be taken into consideration much past 100 yards. But the world market loved it and still does, and it has become a firm favourite amongst small bore hunters in the UK. And in some cases, ousting the 22LR in all but its sub-sonic roles.

Once accepted, it pretty much wiped out the 22WMR, due to its greater accuracy and range potential. But suffered a drop in confidence a few years ago, due to batches of badly performing ammunition, from some manufacturers, which now seems sorted. Which gave the old WMR a brief resurgence of interest.

Ammunition options now include 17 (Federal TNT) and 20-grain jacketed hollow point at 2375fps/255 ft/lbs, the former shows the same figures as Hornady's V-MAX load. and a non-lead from Hornady the 15.5-grain NTX, giving 2525 fps/217 ft/lbs. The former proved as effective as the 17-grain load but not as popular. The latter NTX uses a sintered tin core and had expansion problems, it was accurate, but unless you head shot your quarry, animals tended to take the bullet and run off to die. But overall an exceptional idea and a modern classic in the making.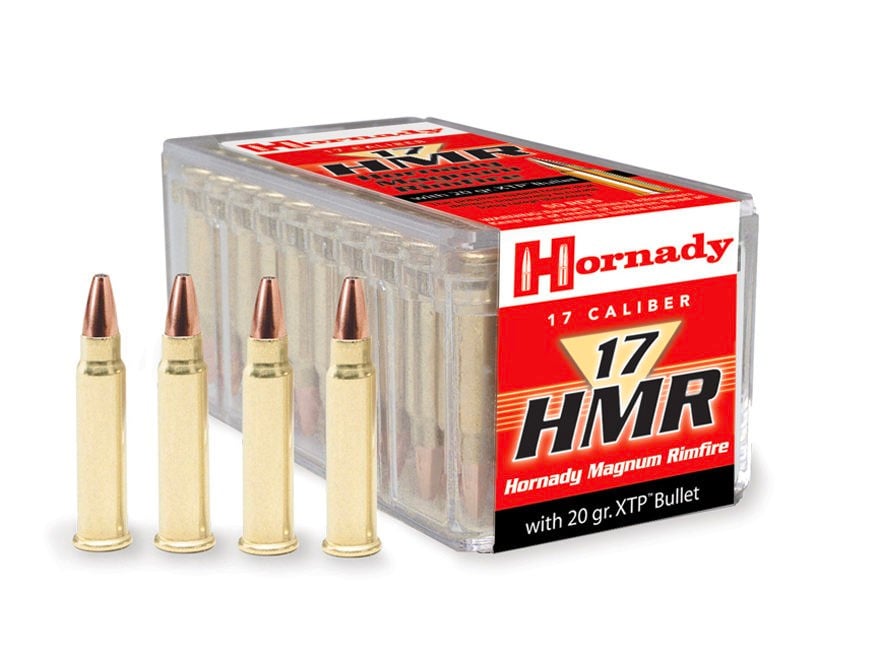 One anomaly in the UK is that for legal reasons you cannot have a semi-auto 17 calibre rimfire rifle, ironically this does not apply to .22s. On that point, experimentation in the US with semi-auto HMRs has been problematic, so much so, that some ammo manufacturers state their products should not be used in self-loading mechanisms!
Winchester 17 WSM (Winchester Super Magnum)
Not to be confused with their centrefire, Winchester Short Magnum, the 17 WSM is rated as the world's most powerful rimfire cartridge to date, which it is. Unusually the case is based on their 0.27" nail gun cartridge that they produce, doubtless in their millions, so a near ready-made container, that's necked-down for .17" bullets. The case is necessarily thicker walled to handle the increased pressures generated, at 30,000 psi, compared to 26,000 psi of the 17HMR. Very much pushing the rimfire concept to its limit.
The first load was a 20-grain ballistic tip at a quoted 3000 fps producing an impressive 404 ft/lbs. Hornady, Federal and American Eagle stuck with this load, Winchester call it the HV17, and now show two more. The HE17 runs a 25-grain BT at 2600 fps/379 ft/lbs. and the Varmint-X17 with a non-lead 15-grainer at a stonking 3,300 fps/367 ft/lbs. The calibre appears both attractive and certainly offers significantly more than the 17HMR and possibly challenges Hornady's, centre fire 17 Hornet. But for every day, rimfire type duties is probably a bit OTT, due to ammo price, availability, and terminal effect on small game if you shoot for the pot.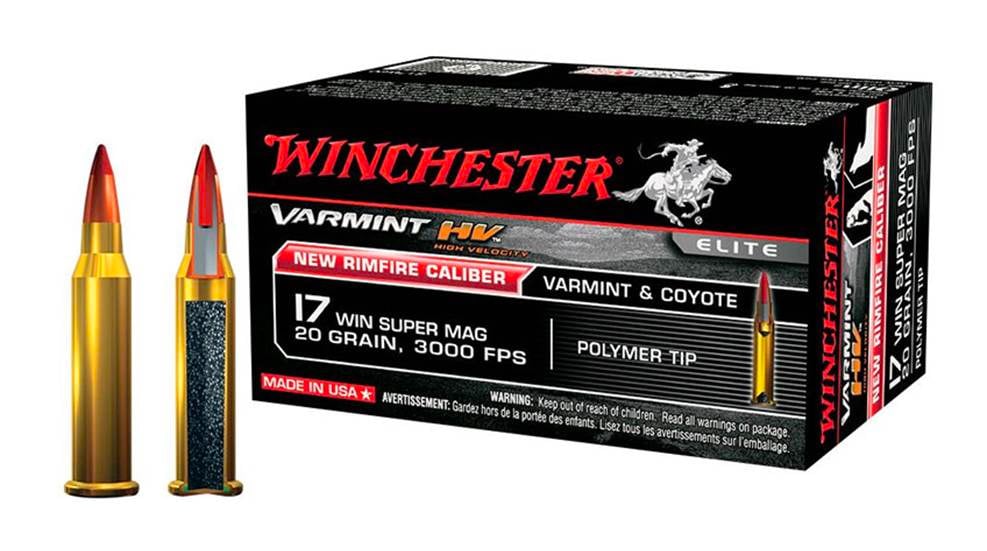 Without trying to appear negative, for today's rimfire shooter there are only three calibres really worth consideration: 22 Long Rifle, 22 Winchester Magnum Rimfire and the 17 Hornady Magnum Rimfire, with a wide choice of types catering to every need. The 17 Winchester Super Magnum is a possible fourth, but as we said is very specialised and back to back tests with Hornady's 17 Hornet shows this 17 centrefire has the edge!
Ammunition
Ammo is normally packed in individual, 50-round boxes, or larger, 500-round (bricks) that hold ten boxes and can also be encountered in 500-round tins. This last is not ideal as the cartridges tend to bang together and can get damaged, which can cause inaccuracies and other problems and is certainly no way to pack Match ammo. Your firearms certificate (FAC) will allow you a certain amount to possess at any one time and another to buy. Annoyingly this is determined not by you, the shooter, and your needs, but your licensing authority, and they can be funny about this area.

A good figure would be 1000-rounds to hold and 500 to buy, so you can get another brick when you reach 50% of your holding. It's also smart to buy in batches to aid consistency, and in bulk should save a bit of money.
TOP TIP: IF YOU BUY A DIFFERENT BATCH OF THE SAME AMMO, RUN IT OVER THE CHRONOGRAPH TO SEE IF THE VELOCITY IS THE SAME. EQUALLY, COMPARE THE GROUPS TOO, AS THINGS CAN AND DO CHANGE
By necessity, all lead, rimfire bullets are externally lubricated, be it a light or heavy grease, a dry film or even a copper wash. The former can and does attract dirt, which can be carried into chambers, barrels and actions, which is not ideal, so no loose rounds in pockets.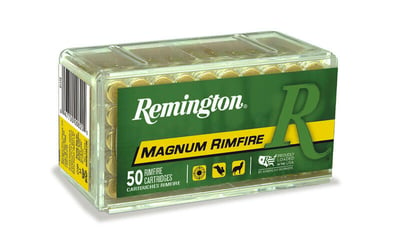 Ruger 10/22, the most popular semi-auto rimfire in the world
Semi Problems
Semi-autos have their own issues, due in the main to their unlocked, blow- back, operating system. Here, given the low powered nature of 22LRs the weight of the bolt and return spring is just enough to keep the action shut at the moment of peak pressure. Then its inertia is overcome, and it opens up.
PROBLEM 1 - The mechanism has to reliably cycle (push back hard and fast enough) so that it ejects the fired case, re-cocks the trigger mech and reliably feeds the next round. So, if a light or low-powered bullet is used there're might not be enough energy to do so.

PROBLEM 2 - Firing residue and unburned powder gets blown back into the action, some exits through the ejection port, but the majority stays inside and coats the breech face, interior of the magazine, bolt and trigger mechanism. If left to build up it will cause stoppages and is the major contributor of unreliability in any semi. A fact compounded by the 'fable' that 22LRs don't need cleaning, as it's undeniably dirty ammo.
PROBLEM 3 - Given the poppers & crackers syndrome and what is an unlocked bolt and chamber, fluctuations are unavoidable, which will affect velocity, reliability, and accuracy. With any make of semi, it's best to try a number of ammo types and see which suits it best, plus adopt a regular cleaning regime. This could be anywhere from 200 - 400 rounds but stick to this and you'll have a lot less hassle. To illustrate this, we spoke to an Action shooter who has been using a S&W, M&P, 15/22 (.22 AR15 clone) for many years, he told us that it needs cleaning at 350/400-rounds and the few stoppages he gets are mainly ammo power related, so unavoidable. However, for hunting we'd still recommend a bolt-action as best choice.

TOP TIP: BEING A RIMMED CASE IT'S IMPORTANT WHEN LOADING DETACHABLE, BOX MAGAZINES TO ENSURE THAT THE RIM OF THE NEXT ROUND IN IS POSITIONED IN FRONT OF THE ONE BELOW IT, OTHERWISE YOU WILL GET FEED STOPPAGES.
Size Matters
Barrel length on any rifle is always an important consideration, in the UK, the shortest we can legally own is 12", which has to be in conjunction with a minimum, overall length of 24". A 12" tube on a centrefire would turn it into a flame thrower, with a massive loss of accuracy and velocity, not so a rimfire. Taking a 22LR, testing shows that even at 12" the powder has all been burned with no loss of performance. This is attractive as it means a compact and handy rifle, especially if you want to fit a moderator. Most guns come out of the box with a nominal 16" tube, which is a good compromise. With the magnums longer is better, we recommend something around 18-20", dropping below that will lose a bit of velocity/energy.
Following on from that, what about effective ranges? In the old days a 22 rimfire was not deemed any good past 50 yards, this was more perception than fact. Today most people zero at 50 and will shoot out to 75. But given the improvements in ammunition and firearms, you can shoot rabbits or hares etc. out to 100 yards with ease, it's just a matter of knowing the ballistics and applying the correction. A rough rule of thumb is that a 22 sub-sonic probably drops 4-6" at 100 and a hi-velocity less. On foxes, the 22LR can be effective at shorter ranges, keep distances short and know where to aim.
However, the magnums offer a whole different ball game. The WMR is a comfortable 100 yard + cartridge, but we'd set the bar at 150 maximum. The HMR is 200 yard + capable with a good shooter and given wind conditions. The WSM will easily make 200 and possibly push out to 250/300, but the usual caveats apply - wind, target size and pilot error/ability. If you had to pick one, we'd say; go with the HMR!
Gun Types
In centrefire calibres our gun laws only allow the ownership of bolt and lever-action, single shot and double/combination guns. Rimfires are allowed all these, plus the now banned (1988 Firearms Amendment) pump-action and semi-autos (17s aside).
Outside of target work, single shots are rare these days, but older models like the falling block Martini actions, and break-barrels are still around and have their place.
Pump and lever-action designs offer highly reliable, manually-operated repeaters. The majority use an integral, under-barrel tube magazine, that loads from the front via a pull-out follower. Rounds are dropped in, base first, and when full the follower is inserted and locked and all you do is cycle the action. Older models come with iron sights only and very much conform to the American plinkers and fairground gallery guns of the late 19th and early 20th century. The beauty here is that there's no magazine to lose and a 22LR rifle with its longer chamber can also use 22 Shorts.
TOP TIP: GIVEN THE MANY MAKES AND TYPES, THE CHOICE OF 2ND HAND RIMFIRES IS MASSIVE, PLUS BARRELS NEVER SEEM TO WEAR OUT!
More modern designs like Browning's BL22, Remington's Fieldmaster (pump-action) and Henry lever-actions offer means of fitting a scope. One anomaly here is Ruger's Model 96. Looking like their 10/22 semi-auto it uses the same, box magazine system but with the external operating lever. Now discontinued it was available in 22LR, 22WMR and 17HMR, 2nd hand examples are still available.
Semi-autos come in all shapes and sizes, with some using tube magazines, but the majority with detachable box systems. Most are sporter-types, but in there last few years there has been a new wave of 'military look-a-likes'. These closely mimic services rifles like the M16/AR15, HK36, Beretta ARX 160, HK416, FN SCAR and even older. GSG making excellent copies of the German StG 44 assault rifle and the MP40 SMG of WWII. These tend to be used more for Action/Practical competition or just pure fun.

oddballs
Gun choice would not be so much fun without the more radical and unusual ideas. Combination guns can offer a rimfire barrel with a low calibre shotgun tube .410" or 9mm Flobert combined, for general walk-about duties they can be useful. Although very rare we have seen double rifles in both 17HMR and 22WMR, more bespoke but beautiful.

Very different was the Calico, these semi-auto rifles and pistols were offered in both 9mm (M960) and 22LR (100 F). M16-like it had a Bullpup-type layout, the 100 F fed from a 100-round linear/helical magazine. The American 180 was another high capacity design and looked like a Tommy Gun with a flat/pan-type magazine on top. If you wanted firepower this was it, magazine capacities ranging from 165, 177, 220, and 275-rounds, chambered specifically for the Winchester 22 Short Magnum, a cut down version of their 22WMR. Blaser of Germany made a rimfire conversion barrel/assembly for their old R93 straight-pull centrefire, looking very odd, with the magazine sticking out at an angle, they refined it later in their improved R8 design. It's also possible to get rimfire inserts for shotgun barrels (break actions), looking like a long cartridge, it contains the barrel and extractor with the shotgun using its own firing pin.
If you shoot a straight-pull, 223 AR15, there are drop-in, 22LR conversion kits that simply replace the centrefire bolt, to turn your manually-operated AR into a semi-auto rimfire. At one stage Ruger offered a similar system for their Mini 14, 223 rifle. And we now have Long Barreled Pistols (LBPs), these use standard 22LR semi-auto pistols, or revolver types, that conform to the 12/24" minimum barrel/overall lengths requirements, laid down after the handgun ban. This is achieved with a fixed, steel rod (coat hanger) permanently attached to the pistol grip frame. Looking a bit odd, they are the nearest thing to a traditional handgun you can now own in the UK and are surprisingly popular.

Something with unrealised promise, was the Sawfly Bullpup (BP) from Artemis Engineering here in the UK, one of the few purpose-built designs. Up until that point the venerable Ruger 10-22 would accept after-market BP stock systems. The Sawfly used a pre-production Anschutz semi-auto chassis with a hand-built Steyr AUG-type body. The final version, which sadly never saw the light of day used many German Sport Gun (GSG) components in a printed, one-piece, polymer body shell and their .22LR, MP40 magazine. If it wasn't for COVID-19 it might have made it to full production.
Disclaimer
The information, including text, graphics, images and information expressed in this publication are general in nature. Viking Arms Ltd assumes no responsibility for the accuracy of the information contained on or available through this website or its suitability for any purpose and such information is subject to change without notice. You are encouraged to confirm any information obtained from or through this website with other sources. Information on this website may not constitute the most up to date legal or other information.
The opinions expressed in this publication are those of the authors. They do not purport to reflect the opinions or views of Viking Arms Ltd.
Head Office Address
Viking Arms Ltd, Summerbridge, Harrogate, North Yorkshire, HG3 4BW